Just because we sell Chrysler, Dodge, Jeep & RAM doesn't me we are limited to servicing only Chrysler, Dodge, Jeep & RAM!
At Cochrane Dodge, we service all makes and models because vehicle maintenance is important no matter what you drive. We handle any service request from tire replacement to certified diesel repairs and everything in between!
With over 200 years of combined mechanical experience, and our state of the art 20+ bay facility our factory trained technicians understand exactly how to care for your vehicle. Continuous improvement is our objective and our technicians are constantly upgrading their skills and studying new advances in technology and equipment.
Our friendly, knowledgeable and trustworthy staff are more than happy to answer all your questions and advise you on the best way to maintain and repair your vehicle. Please feel free to ask us any questions you have about your vehicle & don't forget about our FREE shuttle service!
Vehicle needs to stay for a few days? No worries, our Rental Fleet  are here to help you in a pinch. See FAQ for details.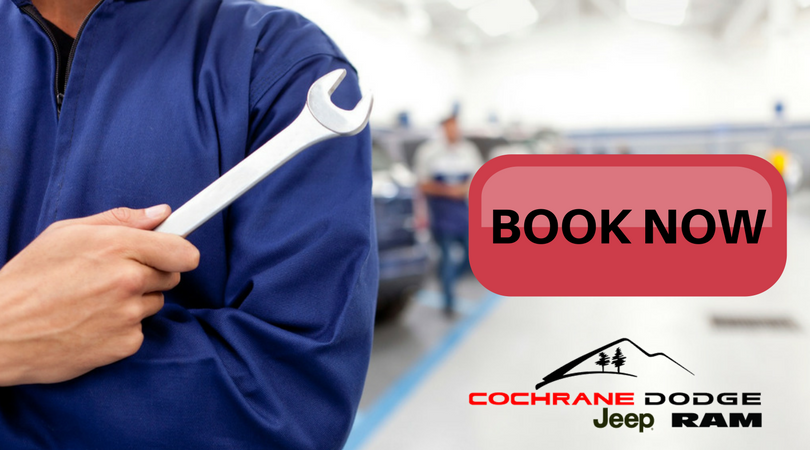 SERVICES OFFERED
Scheduled Maintenance
Tire Balancing  
Fuel Injection Cleaning    
Cooling System Service    
Wiper Replacement      
Brakes/Shocks/Struts        
Starters/
Alternators         
Engine performance
High performance chassis

 Tire Sales and Installation
Tire Rotation
Transmission Flush
Cooling System Flush    
Timing Belt Replacement
Mufflers/Exhaust System
Out of Province Inspection
Detailing shop
Diagnostics
Problem resolution

 Front end Alignment
Tune Ups
Battery Replacement
Hoses & Thermostats
Oil & Lube Services
Diesel Service
Water Pumps/Radiators
Emission services
Electrical work
WE SERVICE THESE MAKES AND MODELS, AND MORE
 

Ford
Honda
Lincoln
Kia
Subaru
Hyundai 
Toyota
Acura
Cadillac
Lexus

 

Nissan
Volkswagon
Lexus
Chevrolet
Mazda
Mitsubishi
GMC
Buick
Infiniti
FAQ's
Where do you get your parts?
We stock brand new repair & maintenance parts right here for nearly all car manufacturers. The vast majority of our all makes parts comes directly from Mopar with our Magneti Marelli Offered by Mopar parts program. All of these parts come directly from mopar and have the same development and manufacturing quality of OEM parts. FCA has offered these parts for years to our customers.
If there's something unique that we don't have, we send out to the local dealer of that brand for that part. In fact, we do so much AMAM service work at Cochrane Dodge that many local dealers for other brands deliver parts to us on the same day we call them for it.
http://parts-catalog.moparrepairconnection.ca/catalog-2
How do you know what my car needs if it isn't your brand? 
We have access to the technical service data for all the car manufacturers. We can tell you exactly what Volvo, VW, Toyota or any other manufacturer specifies for maintenance on your car at the exact mileage it has on it today. We subscribe to industry information services that grant us access to repair instructions, technical bulletins and much more.
Is the work on my car guaranteed?
All Marelli Offered by Mopar parts are warranted for 2 years with both parts and labour included.  The majority of other brands parts are warranted 12 months or 20,000km.
Is this kind of service normal in a new car dealership?
No, it is not typical. Most dealership technicians concentrate exclusively on the vehicle brands that their dealership sells. Their compensation plans drive this bias.
We have a highly progressive way of compensating our people which liberalizes their approach and makes it possible for us to enthusiastically support the resources required to be competent across all brands. We appreciate the importance of quality consistent service and understand that it is hard to find, we just think differently than most dealerships and strive to provide that to each of our customers regardless of brand.
How far will your shuttle driver take me?
Our shuttle driver will provide a ride to all customers in the within an approximate 30 minute radius of Cochrane Dodge. We will do everything we can to accommodate customers further than this on a case by case basis.
How do I qualify for a rental vehicle?

Cochrane Dodge is proud to be able to offer our customers an in house rental service. Our requirements are to be a minimum age of 21 with a valid driver's license and major credit card.
Your Central Chrysler, Dodge, Jeep & RAM Dealership Between Calgary & Canmore!