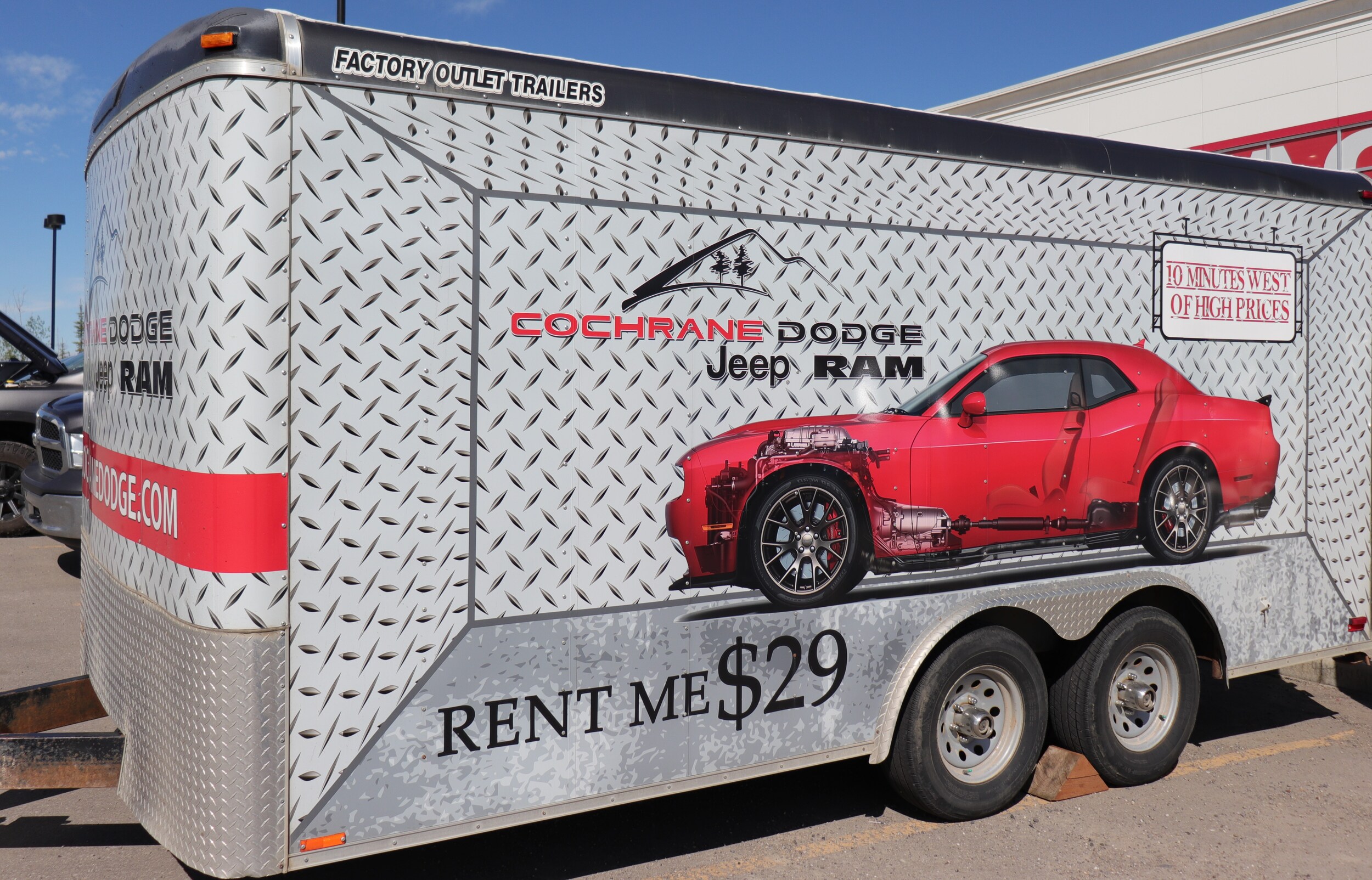 The Cochrane Dodge Trailer
§  Need to get stuff from Cochrane to Olds? Moving to or from Cochrane? Cochrane Dodge has a trailer for you! Perfect for hauling your side-by-side, ATV, sled, large moves, furniture, appliances, ladders, mother in-law, fragile items and storage!! Unfortunately no livestock…
§  Our 8" x 16" Enclosed Trailer with Barn Doors and Side Door,  2 5/16" Hitch Ball, Tandem Axle with 3500lb Axles is the perfect solution and ONLY $29 a day!! 
§  Need it for the WEEKEND (Saturday/Sunday)? ONLY $29! Sunday is FREE!
§  *Note: Must stay in the Province of Alberta. 100km radius from Cochrane. Please inquire if you require to take trailer further.
        No Ramps equipped for trailer loading.
§  Discount for local Cochrane clubs & organizations!
§  Rental Information
·         1.   Pick up of Rental is:
o   Monday through Friday: 12 noon - 5:00 pm
o   Saturday & Sunday: No Pick up
·         2.  All Rentals are contracted for the period of time specified. *No Refunds for Early Returns*
·         3.   If the rental trailer comes back late this will result in additional charges.
·         4.   Rental Units MUST be paid for in full before departure. Along with a full payment, you must provide a valid driver's license for us to copy and have on file while the rental is out.
·         5.   Return of the Rental is:
o     Monday through Friday: 9:00am-5:00pm
o      Saturday & Sunday: No Drop Off
·         6.   Any traffic violations are the responsibility of the renter.  Trailer is covered under your insurance while you have the rental.
·         Call our PARTS Department for availability and bookings. 
1 888-432-2035