2021 Jeep Gladiator vs. 2021 Ford Bronco in Cochrane, AB
2021 Jeep Gladiator vs. 2021 Ford Bronco in Cochrane, Alberta
Get to learn more about our selection of off-road vehicles, reach out to us Cochrane Dodge, Jeep, and Ram dealership. One of the most reliable Chrysler, Dodge, Jeep, and Ram dealer in Cochrane, Alberta, and the surrounding areas of Calgary, Airdrie, and Crowfoot.
Jeep Gladiator vs. Ford Bronco Overview
The Bronco makes a long-awaited return to the off-roading SUV scene with new advanced features, retro aesthetics, and remarkable off-roading capabilities.
The 2021 Jeep Gladiator blends Jeep's off-roading abilities with the appeal of a pickup truck. This combination allows it to create a highly versatile and capable off-roading monster.
Performance, Engine and Drivetrain
Both the two- and four-door 2021 Broncos are powered by a turbocharged 2.3L four-cylinder engine that produces 270 horsepower and 310 pound-feet of torque. For a little more off-roading power on the four-door Bronco, you can opt for the turbocharged 2.7L V6 that delivers 310 horsepower and 400 pound-feet of torque.
The Bronco is available with a seven-speed manual transmission featuring a firm crawl gear for intensive off-roading, but this transmission is only offered on the base 2.3L engine. The V6 comes with a 10-speed automatic that is optional on the four-cylinder. All Broncos are equipped with a two-speed transfer case.
On the other hand, the 2021 Jeep Gladiator draws its power from a 3.6L V6 that makes 285 horsepower and 260 pound-feet of torque. The engine is mated to a standard six-speed manual or an eight-speed automatic transmission. A diesel 3.0L V6 generating 260 horsepower and 442 pound-feet of torque is also available 2021 Gladiator. The Gladiator delivers remarkable power with either powertrain, and even the base model can tow up to 4000 pounds. When well-equipped, the SUV can tow up to an impressive 7650 pounds.
Interior Features
The 2021 Jeep Gladiator's stretched wheelbase allows spacious interiors with ample leg- and headroom for the driver and all passengers. As an off-roading vehicle, it is only right that the Gladiator comes with a waterproof push-button start to ensure that you can take off from any situation. Other optional convenience features include heated front seats and a heated steering wheel. The body and roof panels can be easily detached and removed to create an open-air cabin. The cabin has several spots you can conveniently stick your smartphone for safekeeping. It also has hidden compartments under the back seat where you can stash your valuables. On top of the five-foot bed, the Gladiator is laced with ingenious interior storage options to ensure all your goodies are safely stored.

The 2021 Ford Bronco's interiors have a distinct rugged look and feel. They are not only minimalistic but also practical for an off-roading SUV. Just like the Jeep Gladiator, the Bronco is also equipped with removable doors for those hot off-roading getaways. For added convenience, Ford ensured that the doors could easily be stowed in the back so that you can tag them along in case it starts to rain.
Hours
Monday

Closed

Tuesday

9:00am-6:00pm

Wednesday

9:00am-6:00pm

Thursday

9:00am-6:00pm

Friday

9:00am-5:00pm

Saturday

9:00am-5:00pm

Sunday

Closed
2021 Jeep Gladiator Exterior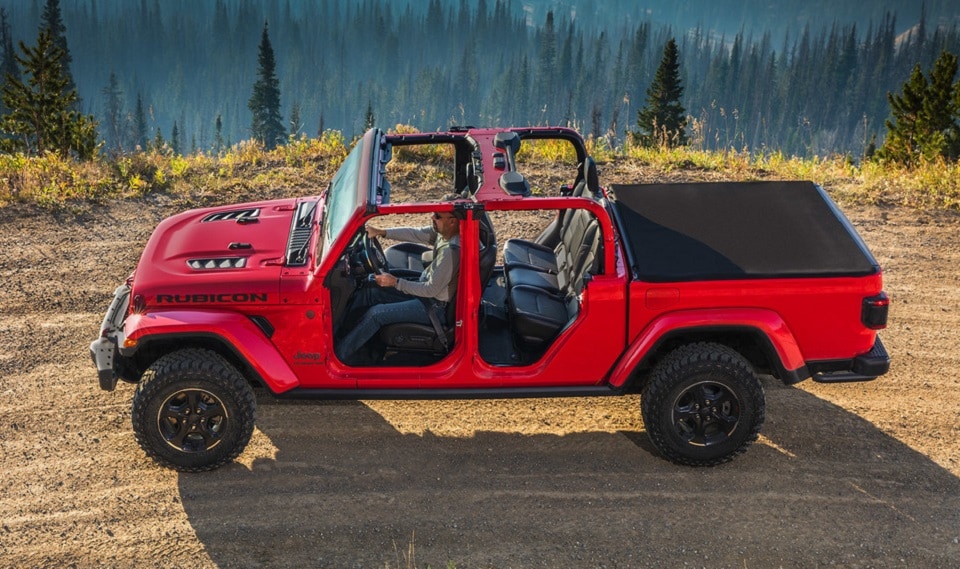 2021 Ford Bronco Exterior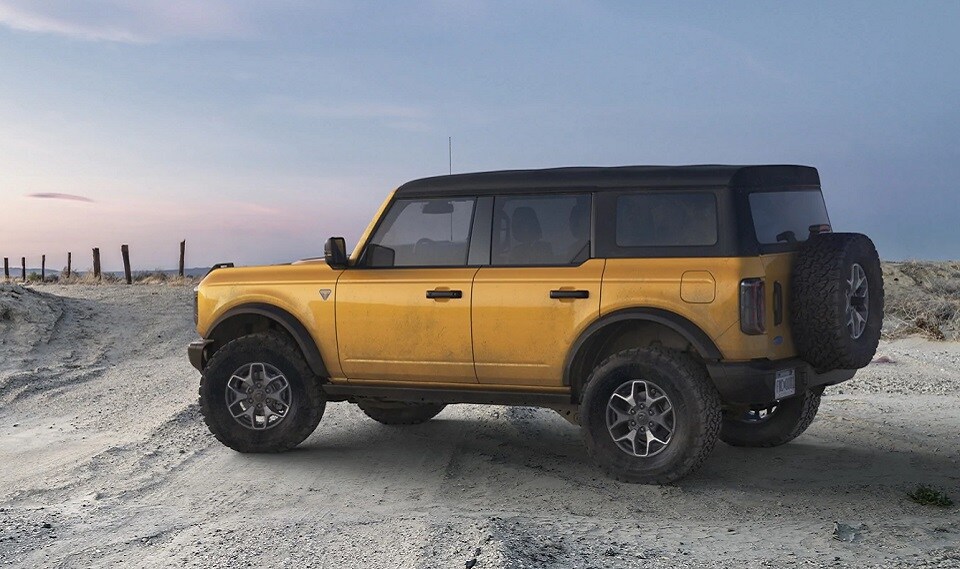 Off-Roading Capabilities
To make the Bronco the ideal off-roader, Ford makes it available with various off-road hardware. These include Spicer Performa Trak, 35" all-terrain tires, front and rear locking differentials, and multiple terrain modes. The SUV has a water fording capability of 33.5", ground clearance of up to 11.6", and break over/ departure angles of 29/37.2 degrees, respectively. For those off-roaders who want to explore deeper beyond the trails, the 2021 Ford Bronco has a functional off-road navigation system. Another trailblazing piece of off-roading technology on the 2021 Bronco is the Trail Control, an available low-speed off-road cruise control.
The Jeep Gladiator makes a worthy competitor of the Ford Bronco. The truck can be equipped for high-speed runs across the desert, climbing rocky hills, or navigating through wet terrain. It is available with 2.5" Fox internal bypass shocks, Fox front hydraulic jounce bumpers, and 33" All-terrain tires. When off-roading, there might come a time when you will have no option to cut across the whole river. Well, worry not, Jeep already thought about this and gave the Gladiator a water fording capability of up to 30".
Jeep Gladiator A Stretched Jeep Wrangler
Just like the Jeep Wrangler, the 2021 Gladiator Truck is also built for the ultimate off-roading experience. The Gladiator is a Wrangler, upgraded to a pickup truck, with lots of off-road upgrades available to match its SUV counterpart.
Financing Options
Contact Us for more information on the Jeep Gladiator, our New Jeep Inventory, and finance options. You can also book and schedule a test drive to experience the ultimate off-roader yourself. Our team of experts will be patiently waiting to help you find the perfect Chrysler vehicle that suits your specific needs. Please fill out a financing application through our Finance Centre to begin the process of ownership.
2021 Jeep Gladiator Inventory in Cochrane, Alberta