COCHRANE DODGE JEEP RAM SERVICE DEPARTMENT
Cochrane Vehicle Repair and Service Department
When you bring your vehicle in for Service at Cochrane Dodge Chrysler Jeep Ram you will know you are leaving it good hands. Call in and schedule your appointment with Michelle, she will ensure that we book your vehicle in a timely fashion and on a day that works for your busy schedule. 
When you arrive all you have to do is drive right into our Service Drive-Thru, where we have Jason, Luke and Lindsay waiting to book you in and get your vehicle right into our shop as quick as possible. 
Keeping your vehicle in its prime is our main concern. If you're like most people today, you're planning on driving your NEW or USED Vehicle into the ground. A lot of people are going so far as to aim for the 150,000-km mark. And, with all of the real-life stories about people diving their car 200,000- and in extreme cases 1,000,000 km? Why not? It will create a lot less waste, that's for sure.
The trick to keeping your vehicle running as it did the day you were first handed the keys - even as the odometer turns over its third zero is an easy one:  Follow the manufacturer's recommended vehicle service schedule. We have an amazing Service Technician Team including Mike who has been with Cochrane Dodge for 18 years and is a Master Technician and Brad who is a 4x4 brain-i-ack! The whole team wants to make sure your vehicle is running smoothly.
But it doesn't stop there! Among the many RAM, Dodge, Jeep and Chrysler auto services offered at Cochrane Dodge Chrysler Jeep Ram (using genuine RAM, Dodge, Jeep and Chrysler parts, of course) are:
·        Hose/line replacements
·        Multi-point inspections
·        Weird-car noise diagnoses
To schedule a car repair appointment, simply submit our auto service appointment online form above or call the Cochrane Dodge Chrysler Jeep Ram service center, during our regular business hours. We'll get you in, and back on the road, right away.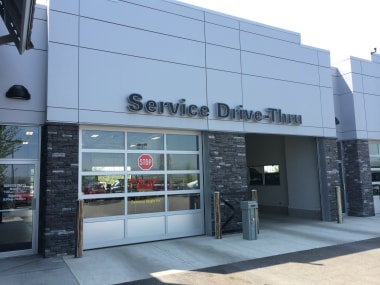 Your Central Chrysler, Dodge, Jeep & RAM Dealership Between Calgary & Canmore!